WHEP – The 4-H Wildlife Habitat Evaluation Program
WHEP is a national 4-H program that:
teaches 4-Hers about the fundamentals of wildlife management
brings 4-Hers together to develop team skills
promotes and develops leadership skills among 4-Hers
provides an opportunity for 4-Hers to work with natural resource professionals.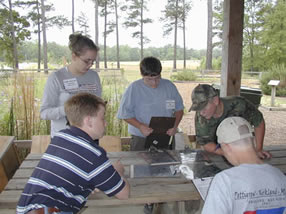 Although WHEP is a competitive event, its primary purpose is to increase participant's knowledge of wildlife management while promoting life skills. The basis of the program is the NC WHEP Learning and Activity Guide, which covers wildlife habitat management concepts and helps participants prepare for the annual state contest.