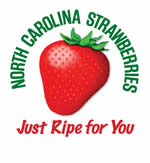 The NC Strawberry Association seeks applications for its 2014 scholarships.
The intent of this scholarship is to promote future leadership in the strawberry industry and the scholarship is open to students applying to, accepted to, or currently enrolled in a college or land-grant university who is working toward a four-year degree in agriculture and/or a related field with a focus on the strawberry industry (for example, small fruit production, marketing, food science, nutrition, entomology, agronomy, etc).
Two Scholarship Awards of $1000 each are offered for 2014. This award is not limited to North Carolina and family members of NC Strawberry Association members are encouraged to apply.
North Carolina Strawberry Association
Mail: 1138 Rock Rest Rd. Pittsboro, NC 27312