Friday, March 27, 2015
The April issue of the Alleghany Clover News is now available. Click Here to view.
Posted by

Michele Hamm
at 9:38 AM
No comments:

Tuesday, March 17, 2015
There are several shows coming up soon.
Our Spring Holiday Classic Open Horse Show will be
April 18-19
in Raleigh. This is our fundraiser for our district 4-H horse program so your participation would be greatly appreciated! You can also volunteer to help at the show, sell sponsorships and encourage vendors to attend. **
You can find all information at the new web site at: http://www.holidayclassicopenhorseshow.com/
Also, if you sell at least $100 in sponsorships for this show you will get a free stall for the show.
Posted by

Amy Lucas
at 8:20 PM
No comments:

WHEP – The 4-H Wildlife Habitat Evaluation Program
WHEP is a national 4-H program that:
teaches 4-Hers about the fundamentals of wildlife management
brings 4-Hers together to develop team skills
promotes and develops leadership skills among 4-Hers
provides an opportunity for 4-Hers to work with natural resource professionals.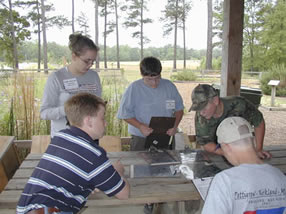 Although WHEP is a competitive event, its primary purpose is to increase participant's knowledge of wildlife management while promoting life skills. The basis of the program is the NC WHEP Learning and Activity Guide, which covers wildlife habitat management concepts and helps participants prepare for the annual state contest.
Posted by

Amy Lucas
at 7:29 PM
No comments:

Please tell your young people (specifically your seniors 15+ by the end of the year) that this year the state winners in the horticultural categories of
Horticulture Production and Marketing, Landscaping and Artistic Arrangement
are all eligible to attend the
National Junior Horticultural Association's
annual convention in Orlando, Florida. Highly recommend this year, next year is Erie, PA (no offense Erie, PA). We cover registration, sometimes travel if we drive and youth cover lodging/sometimes travel. We have a splendid time, make good friends, learn a lot, have many belly laughs and in short celebrate a deep and abundant affinity for plant material.
BTW: Crop Science, Entomology and Soils are pretty wonderful categories too.
On behalf of Liz Driscoll
4-H Youth Specialist
Departments of Crop Science, Entomology, Horticulture and Soil Science
Posted by

Amy Lucas
at 7:23 PM
No comments:

Thursday, March 5, 2015
Spring is on the way and so is the annual OPEN HOUSE at NC State College of Veterinary Medicine. This year's event will be 9 a.m. to 3 p.m. on Saturday, March 28.
This will be a fun and informative day--lots of horses and farm animals this year.
For more information visit the
LINK
..
Posted by

Amy Lucas
at 3:13 PM
No comments: